Open Source Alternative – Find Open Source Alternatives to commercial software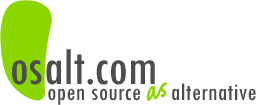 This is an interesting and useful site:
Our mission is to provide easy access to high quality open source alternatives to well-known commercial products.
Early days to tell how good it is as yet, but I've already had some success looking for Visio alternatives and MS Project viewers. Here's wishing them every success!